HS High Speed Treadmill Features
Like all the equipment we build, the HS Series is built to be the "toughest treadmill on the planet." With our all-steel contruction, patented Force Multiplier system, and a large, comfortable training area, these professional-grade treadmills are built to last for years to come.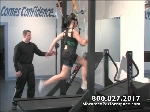 An industry first, and exclusive to NORAMCO, the Speed Arch unweighting system isn't just a safety device. This system moves with the athlete as they train. This device will give your athletes the freedom of movement they need to get the most from each training session while keeping them safe in the event of a fall.
Click for a short video demo.
The HS Series of High-Speed Treadmills
HS-Elite: 31 MPH, 40% Grade
HS-Pro: 26 MPH, 30% Grade

Ownership
The HS Series high-speed treadmill is a turn-key solution for all your training needs. From pro sports to sports rehab, the military, collegiate athletics, high schools, or any amatuer and professional training center... Let us show you how easy it is to own, operate, and see results using our professional-grade equipment and training protocols.
NORAMCO Fitness & Performance can provide you with flexible and affordable ownership options. It has never been so easy and cost effective to provide top level training to all your athletes, so don't miss out on this opportunity!